The Clay Family Place Newsletter Biography Page
Marcia Hovenden
My father was in the Navy for over twenty years. My parents, Raymond and Elsie were introduced to each other at my great grandparents, Henry Stein and Viola Clark's 50th Wedding Anniversary in 1945. They were both 23 at the time, when approached by another suitor, Elsie said, "no, no, my mother wants me to meet another man. (My grandmother played matchmaker at the time) My mother did not think that she was going to like Raymond, but when she saw my father for the first time, she fell in love. They went together for 3 weeks and then became engaged. They were married on April 22, 1945.
After they were married, my father was stationed at Lake City, Florida, they lived there 5 months, them moved to Columbus, Ohio, where my brother Raymond the third, was born, and my sister Patricia a couple of years later, then me, Marcia. Next we lived in Connecticut, and Portsmouth, Virginia, before I was five we were living in Hamilton, Bermuda. This was our home for the next for and, a half years. My brother Steven Charles was born there in 1955, he died in 1957 in a tragic bunk bed accident. My sister Kathleen Sue was born in Bermuda also.
I began school in Bermuda, our uniforms consisted of a white blouse, a navy blue skirt and beanie cap, and in cool weather a blue blazer was added. Our blouses had our school initials on it. We left Bermuda in January 1959 and flew to our Aunt and Uncles house in Connecticut, they gave us one of their cars and then we drove to visit the relatives in Ohio. Next we lived in Tennessee until the summer of 1959, and then Indian Head, Maryland until 1962, on the way to Jacksonville, Florida, my mother wanted to know if we would like a brother or sister. My brother Ray, being tired of all the girls, said if it was not a boy, he would run away and join the Navy. John Douglas was born in 1963 we lived in Jacksonville until 1965, then to Puerto Rico. We left there on John's 4th birthday, and have been living in Maryland every since.
I received my first marriage proposal on the plane ride to Maryland, from a young man named Victor, he said that I would have to come back to Puerto Rico so we could get married. Of course, it did not work out because my parents would not let me write to him.
We lived in District Heights, Greenbelt, Adelphi and Upper Marlboro, Maryland. Two weeks after we moved into our new house, my father died, he was working for Page Airways at National Airport. In fact, he was working on his night off for someone that went home for Christmas. I think he knew he was not going to live much longer, because we tried to go to Ohio for Thanksgiving, so that he could say goodbye to the family. That was in 1971. He had never taken us anywhere before a holiday. We never made it to Ohio, we didn't even make it out of Maryland, we were still living in Adelphi, Maryland at the time, it took us three hours to get to Hagerstown, Maryland. The car in front of us almost went through the guardrail and so did we because of the snow. Dad got off at the next exit and went into McDonald's, people were telling my Dad that the Pennsylvania Turnpike is much worse than what we had come through, they said that we should go back, so that is what we did.
Anyway, my Dad died Dec. 23, 1971, on Duke Street in Old Town, Alexandria. They were going to send the police out to our house to tell my mother, but two of the guys that were working with my father came out to the house and told my mother. They had just laid the rugs down in the new house and my mother tried to close our bedroom doors, but was not able to get them closed. I did wake up, when I thought I heard my mother and after I came out and my mother called my brother Ray. Ray came over to the house, and then the two men left. My sister, Kathy woke up and cried and Ray woke John up, but he was too tired to realize what was going on. My sister Patty, who was expecting her second child at the time, was called later. This was a rough Christmas for us all. My father is buried at Arlington Cemetery, straight down from Arlington house, and right around the corner from the Kennedy graves.
Since I was the oldest at home, and my mother worked for the Telephone Company at the time, she wanted somebody to be home when John came home from school, so I babysat the neighborhood children. In 1975 I went to work for the Weather Service, this is where I met George David Hovenden, he likes to be called Dave. I worked for the Weather Service for 22 years 8 months before I was given a RIF notice because of Clinton downsizing the Department of Commerce. My supervisor did not want me to leave, believe me I did not want to leave either. I was out of work from the end of September 1997 to the first week of January, in 1998, when I was picked up by the Department of Commerce, under the Patent and Trademark Office. Since this was only temporary, I worked there for only 10 weeks, bringing up their standard of work production. I liked working there and wish they could have made this a permanent job, but since they could not, I accepted a permanent job with the Department of the Interior under the Fish and Wildlife Service with Law Enforcement.
I like German music I must have gotten this from my Stein relatives, one of our favorite places to go in an annual Mardi Gras, in Fairfax, Virginia. I always go in costume the next one will be a Deviled Egg with horns and a tail like a devil and egg yolk. My hobbies, besides Genealogy, are Civil War Reenactments, three of my relatives were in the Civil War, there may be more, waiting to be found in the pages of our family history somewhere. My grandmother and Great Aunt Betty got me interested in Genealogy, there is a mystery that my grandmother said that her mother in law would not talk about, maybe I will be the one to unlock it. My Grandmother said that we were related to George Washington, could it be through Martha Anne Lewis or is it John Carter Ball? Maybe one day we will find who William Mitchell Clay was married to, that is my line.
Dave has three children from his previous marriage, his children are Curtis, Terrie and Shawn, Curtis has a son Travis, Terrie has two girls, Laura and Ashley and Shawn has three children, Shane, Shannon and Shawn David.
Dave and I both like and write poetry, as well as his granddaughter Laura. We have all submitted poetry online, where it has been published, Poetry.com. My poetry has eased the sad times in my life and brightened the happy moments. Marcia Hovenden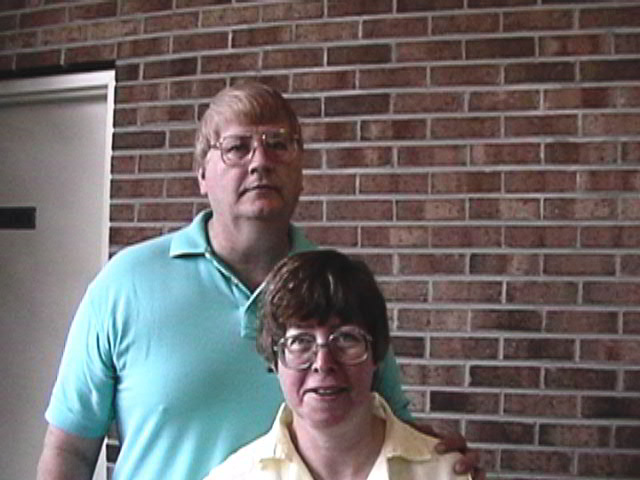 Dave and Marcia Hovenden. [When we began planning the Clay Family Gathering a couple of years ago, Marcia constantly encouraged me every step of the way, when I was finally able to meet Marcia and Dave in Williamsburg, it brought her smiling presence from email to reality. Thank you Marcia, it has been a true pleasure meeting and knowing you! Gynger]

Marcia's line is as follows:

Marcia Hovenden

William Mitchell Clay b. 1710 d. ca 1774 m. _____Lewis?, Agnes______?

child:

Mitchell Clay 1735 married Phoebe Belcher

child:

William Clay m. Rebecca Cecil

child:

Julina Clay m. Carter Ball. John Carter Ball b. ca. 1806 d. 1897 m. Julina Whitten Clay b. ca 1810

Children:

Susan -1835

John -1836

Rebecca- 1838

Elizabeth- 1840

Henry- 1842

Sally- 1844 named Sarah but called Sallie

Thomas - 1846

Robert - 1848

James - 1850

George -1853

Their daughter ( Sarah) Sallie Ball b. ca. 1844 m. 1. Warren H. Devore b. ca. 1840 d. 7- 28, 1878

Children:

Julina Devore

Lizzie Virginia Devore

Sallie C. Devore b.

Effie Devore b.

Zula June Devore

Zula J. Devore b.June 11, 1869, d. Oct. 25, 1929 Ashland, Ky. married John Offord b. Mar 7, 1875 Ohio. ( he was the son of John Offord and Cornelia Longshore Offord of Zanesville, Ohio.)

child:

Grayson Offord b. July 27, 1897 d. Sept 13, 1956 married Elsie Bernice Stein b. Oct. 31, 1899 d. Dec. 30, 1980 daughter of H. E. Stein and Viola Clark

child:

Elsie L. Offord b. Aug. 21, 1921 married Raymond E. Hasson Jr. b. Feb 23, 1921 d. Dec. 23, 1971, son of Raymond E. Hasson Sr., and Edna Handley.

child: Marcia Kay Hasson b. Oct. 6, 1950 Married on Dec 6, 1975, George David Hovenden b. May 7, 1940 son of George F. Hovenden and Jean Marian Curtis.

For further information on Marcia's line, contact her at: Mr. And Mrs. G. Hovenden
10100 King Edward Ct., Upper Marlboro, MD 20772-4832, or X43R228@aol.com

SOURCES:

Marriage, Birth and death records states of Ohio, Virginia, Indiana, Illinois, Maryland and Kentucky census records

The Devore/ De Vore Families 1500-1992 compiled by Betty M. Mann editor, published in Lansing Michigan 1992

Personal communication of Marcia Hovenden and Gynger Cook