EVELYN JOYCE DANIEL VAUGHN
This issue features the lineage of Evelyn Joyce Daniel Vaughn. Evelyn was born December 26th, 1946 in Surveyor, West Virginia, to Norman Lee Daniel and Alice Haseltine Clay Daniel. Her Grandparents were Pierce Clay and Elsie Deck Clay, her great-grandparents were Henry and Ida Clay.
Evelyn's family moved from Surveyor to Laeger, West Virginia in the summer of 1957, where she attended the Laeger Jr. High School for 3 years and High School where she graduated in 1964.
In 1965 Evelyn met Billy Vaugh, and they married the same year. In 1967 the Vaughns moved to Roanoke, Virginia where they still live and have raised their family of 3 children, Bill Franklin Vaughn, Brenda Leigh Vaughn, and Kevin Wayne Vaughn.
They also have 8 grandchildren: Corin, Dustin, Caleb and Dylan Vaughn are the children of Christina (Bamicoat) and Kevin Vaughn, Peyton is the daughter of Brenda Vaughn. Shawn, Andrew, and Michael Grishman are the sons of Patricia Grishman Vaughn and stepsons of Bill Franklin Vaughn.
Evelyn is a very active and energic person, she works for Hanover Direct, Inc. in Roanoke, Virginia, and in her spare time she enjoys taking care of her grandchildren, walking and reading. If you have a connection with Evelyn's line and would like to contact her, you can reach her at 6419 Garman Dr., Roanoke, Virginia
.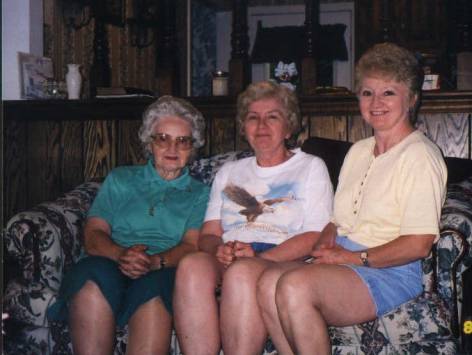 From left to right, Alice Clay Daniel, with daughters Evelyn Vaughn, and Sharon Brown
The following is from a school project that Evelyn researched on her family.
Mitchell Clay ( The elder, or senior)
Mitchell Clay was born in 1735, the son of William Mitchell Clay and unknown mother, in Henrico County, Virginia. He married Phoebe Belcher in Bedford County, Va. On April 23, 1774, he obtained a Crown Grant from Lord Dunamore, then Royal governor of Virginia for 803 acres of land described as being "situated on both sides of Bluestone Creek, a branch of New River and called Clover Bottom." With his family he moved to his new estate in the spring of 1775.
For the next eight years Mitchell Clay occupied himself with the task of clearing his land and such other duties as would naturally revolve upon one occupying a wilderness country. In August of 1783, however, there occurred the famous Shawnee Massacre, in which tow of his children, Bartley and Tabitha were killed outright, and a third, Ezekiel, carried captive to Chillicothe, and there burned at the stake.
Following the massacre at Clover Bottom in which the son and daughter lost their lives, settlers from the New River country pursued the savages and overtook a portion of them. The main body having in the meantime divided on Pond Fork, Boone Country. In the fight that followed, two sons of Mitchell Clay, David and Mitchell, the younger, were participants. It was in retaliation for losses inflicted upon their comrades on Pond Fork that the savages burned Ezekiel Clay at the stake upon their arrival at their village on the Pickaway Plains, near the present city of Chillicothe, Ohio.
After this disaster came upon his family, Mitchell Clay moved to the New River country near Pearisburg, where he acquired on the opposite side of the river from where the town now stands, a tract of land which later was known as the Johnston farm. He resided there until his death in 1811.
It is a fact worthy of note that Mitchell Clay , the younger, with his two brothers, David and Ezekiel, were soldiers in the army of General Andrew Lewis in the battle of Point Pleasant, October 10,1774, during the Revolutionary War.
Seven sons and seven daughters, 14 children in all, were born to Michell and Phoebe Clay. The sons were, David, Mitchell, Charles, William and Henry in addition to the son killed by the Indians, Bartly and Ezekiel. The daughters were, Tabitha, Naomi, Patience, Rebecca, Obedience, Mary and Sarah.
From an unknown newspaper article August 17, 1931:
"Clay Family Plans Great Gathering of Descendents of Pioneer Mitchell Clay"
"History of Family Which Originated at Lake Shawnee in 1775 Proves an Interesting One"
A meeting of the Mitchell Clay Memorial Association composed of descendents of the orginial settler in what is now Mercer County, will be held at Lake Shawnee September 13, 1931. The Clay gathering wil, very appropiatedly, be held on the very ground upon which the family progenitor settled in 1775.
Addresses will be made by descendents of each of five daughters of Mitchell Clay. Of the 6 daughters, much is to be said. All married men of distinction and all save one have descendents residing in Raleigh County.
Naomi Clay m. Joseph Hare April 9, 1789 no children survived
Patience Clay m. George Chapman Nov. 5, 1789 and Moved to Kentucky
Rebecca Clay M. George Pearis, October 5, 1784, a captain in the Revolution and founder of Pearisburg, Va. (A. B. Maxwell, attorney in Beckley is a grandson of this union.
Obedience Clay m. Capt. John French, January 8, 1787
Mary Clay m. Ralph Stewart on January 25, 1788, they moved to Wyoming County where many descendents now live.
Sarah Clay m. John Peters, in Feb., 1800
The sons of Mitchell Clay were very active in the history of Montgomery and Giles Counties Virginia. They were men of splendid physical proportions and men of exceptional attainment for their day and opportunities. Their caliber is amply attested to by a Montgomery Court order entered June 4, 1799, in which three of them were recommended to the governor of Virginia for commissions as officers in the same battalion.
These three, Mitchell, Charles, and William were choses by the court for the ranks of Captain, Lieutenant, and ensign respectively of the Second Battalion, 86th Regiment Virginia Militia. The spectacle of three brothers occupying as many ranking positions in a military unit is to say the least, unique.
Mitchell Clay the younger, son of the Clover Bottom settler died on Breckenridge, Raleigh County, near Bolt, West Virginia, in 1850.
From Past-Herald Centennial Edition, Saturday Morning, August 26, 1950
Judge W.A. Riffe, a student of the early settlers in Raleigh Country, gave this information:
Clay John T. and Meredith
These two brothers were originally from Giles County, Virginia. John T. moved to Marsh Fork, where he was a land holder and the first sheriff of Raleigh County. Meridith settled on Miller's Camp Branch. His first land grant was dated 1834. John T. and Meredith were sons of Mitchell Clay Jr. and grandsons of Mitchell Clay Sr., who settled on the Clover Bottoms of Bluestone in 1775.
Meredith Clay's land was sold in later years by his son Leftridge, to the promoters of the coal company which opened the mines at Eccles, WV. The family cemetery, though overgrown with brush and undergrowth, contains the remains of many of the Clay Family. The monuments still readable for the old settlers, Meredith and his wife Nancy contain these markings:
Meredith Clay
Born Jan. 2, 1812
Died Jan. 31, 1898
His memory Esteemed
Nancy (Bailey) Clay
Born Aug.12, 1816
Died May 28, 1891
Her End was Peace
Sons of Meredith and Nancy Clay who served in the Civil War on the Union side were Booker and Jackson Clay. Captain Turner was commissioned to raise a company of 50 scouts in Raleigh County on Feb. 11, 1864, they were disbanded on May 11, 1864. In addition to the sons of Meredith Clay who served were the following Clays, George A., Ralph, and William K.
The children of Meredith and Nancy Bailey Clay were
America Clay married William Burgess

John Burgess
Russell Burgess

Charlotte

(died young)
Amanda Clay married a Mr. Kncaid
Children's names unknown
Lucinda Clay married John Patton

John Patton Jr. m. Elizabeth Clay
Sylvester Patton m. Magdalene Clay
William Patton m, Eliza Clay
Mary Ann Patton m. Lewis Hutchinson
Francis Patton m. Jack Hutchinson
Eliza Patton m. Chester Stanley
Harriet Patton died young
Judith Patton m. Rush Brown
Hansford Patton (facts unknown)

Booker Clay m. Lucinda Mc Million

Mary Mc Million m. Cal Stover
Eliza Mc Million m. Bill Patton
Nancy Mc Million m. Josephus Smith
Marshall Mc Million m. Margaret Cooper
Newton Mc Million m. Delia Daniels
Lewis Mc Million moved to Nicholas County
Peter Mc Million m. Harriet Williams
Henry Mc Million m. Mattie Mc Million
Richard Clay married Mandy Webb

Ellen Clay m. Floyd Mc Million
Evalina Clay m. Jeff Bolt
Victoria Clay m. James Mc Million
Sherman Clay m. Miss Wiseman
Anthony Clay died young

Jackson Clay m. Aletha Mc Million

Allice, died young
Perry Clay m. Sarah Godby
Magdalene Clay m. Sylvester Patton
Belle Clay m. Frank Clay
Ola Clay died without issue
Mandeville Clay m. Mary Elizabeth Curtis ( Mollie)
Elizabeth Clay m. John Patton
Kenny Clay died young

Leftridge Clay m. Pauline Daniel

Windsor Clay no information known
Dora Clay m. Mr. Aliff
Lucy Clay died young
Viola Clay m. (1)Quincy Clay (2) Mr. Streeter
J. Hugh Clay m. Hallie Smith
Milton Clay no information known
Effie Clay m. Olaf Ottoson
Aletha Clay m. Mr. Bare
Jason Clay no information known
Jennis Clay

no information known

Floyd Clay m. Miss Williams

Amos Clay

Jermyn Clay m. Jennie Aliff
a. Quincy Clay
Tracing the Clay Family to Evelyn Daniel Vaughn
1. John Clay arrived on The Treasurer 1612-1613 m. Elizabeth
2. Charles Clay b.1638 m. Hannah Wilson
3. Henry Clay b. 1672 m. Mary Mitchell
4. William Mitchell Clay b.1710
5. Mitchell Clay b. 1736 m. Phoebe Belcher 1760
6. Mitchell Clay Jr. b. 1769 m. Judith Clay
7. Meredith Clay b. 1812 m. Nancy Bailey (brother John T. Clay 1st sheriff of Raleigh County in 1850)
8. Booker Clay
9. Henry Clay b. 1879 d. 1955 m. Ida Hendrick , 12 children
10.Pierce Clay b. 1901 m. Elsie Deck
Edith Elizabeth Clay m. A. E. Shrewsbury

Mark Samuel Shrewsbury
Rebecca Shrewsbury
Yvonne Shrewsbury

Eulice Clinton Clay m. Helen Coleman

Bonnie Clay

William Harrison Clay m. Hazel Farmer

William Harrison Clay ll

(child, Michael)
Ronald Eugene Clay m. Jessie
a. Rhonda
b. Brian
Susan Clay

Alice Haseltine Clay m. Norman Daniel

Evelyn Joyce Daniel m. Bill Vaughn
a. Frankie Vaughn
b. Brenda Vaughn
c. Kevin Vaughn
Alan Lee Daniel m. Emerlean Estep
a. Heather Estep
b. Christopher Alan Estep
Alton Ray Daniel m. Sandra Gaye Poe
a. Melody
Sharon Gail Daniel m. Joe Brown
a. Joanne Brown
b. Amanda Brown
David Michael Daniel

Ruth Joyce Clay m. Alan Grey Kincaid

Vicki Jean m. Steve Legg
a. Steven Legg
Rickey Alan Kincaid m. Debra Case
a. Rickey Jr.
Sandra Kay Kincaid
Jeffery Paul Kincaid
Joyce Ann Kincaid

Mary Louise Clay M. Johnny Johnson

Anita Catherine Johnson
Michael Dale Johnson